As seen today on St. Albans Messenger digital and print edition platforms.
Includes interview with Joanne Saunders, NCSS Adolescent Case Manager
'An epidemic of vaping:' Franklin County schools strategize to decrease vaping among youth
By Bridget Higdon, Messenger Editor
Excerpts from article:
FRANKLIN COUNTY — Though alcohol and tobacco use are down among Franklin County youth, vaping is becoming increasingly popular, according to a recent survey.
In 2020, less than 5% of seventh- and eighth-graders at Richford, Enosburg and Missisquoi Valley schools used an e-cigarette on a daily basis. In 2022, approximately 12% vaped every day.
____
Joanne Saunders was the SAP counselor at BFA-Fairfax up until 2019, when the position lost its grant funding. She's now an adolescent case manager at Northwestern Counseling and Support Services, or one of the people Giroux might recommend a student go and see.
Saunders will meet with youth ages 14-22 who have anxiety or depression and can talk them through the quitting process, if they are using nicotine or cannabis to try to manage those feelings.
"When I was a teenager, I was able to recognize who the adults were that I leaned into and listened to," she said. "When I got older, I wanted to be that kind of adult who kids trusted."
Dozens of other schools across Vermont have lost their SAP funding, and many have not re-hired counselors due to the cost.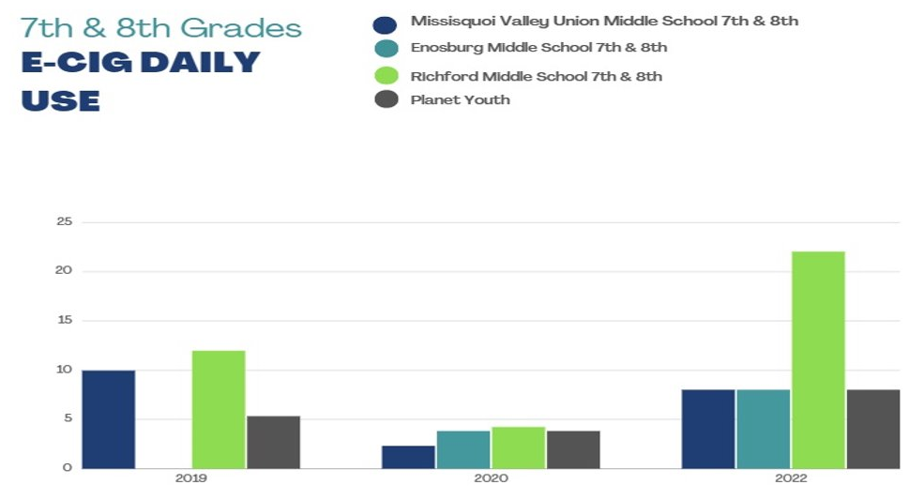 When Joanne Saunders was the SAP counselor at BFA-Fairfax, she mobilized students to spread awareness through tabling in the school lobby, playing games and organizing informational sessions.
Those students are part of the Vermont Teen Institute, a youth leadership program facilitated by Franklin County Caring Communities and located in local high schools. Teen Institute students and their advisers come together for a week in the summer to learn about health and wellness, and then they spend the year working to improve their schools and communities through a variety of student-led activities.
Saunders is still the adviser to the Teen Institute at Fairfax, but the group became less active when she was no longer the SAP counselor.
Link to entire article:
https://www.samessenger.com/news/schools/an-epidemic-of-vaping-franklin-county-schools-strategize-to-decrease-vaping-among-youth/article_1fde33fc-ae43-11ed-b2fd-8b59505e87a6.html?utm_source=samessenger.com&utm_campaign=%2Fnewsletter%2Foptimize%2Ftoday%2F%3F-dc%3D1676631603&utm_medium=email&utm_content=headline