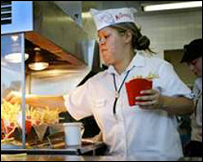 Employment Services
The Employment Services program offers citizens of Franklin and Grand Isle counties opportunities and support to access competitive employment where they otherwise might experience barriers to employment.
We do this by:
Providing job-seekers with training and support in building a resume, interviewing skills, connecting with employers in their community.
Exploring employment interests and possible work experiences to ensure good job matches.
Providing on-the-job support and training, if needed, to enhance employer support.
Supporting employers to access tax incentives for employing people who face barriers to employment.
Help support over 90 people stay employed.
Access employment resources through community partnerships such as Vocational Rehab, Creative Workforce Solutions.