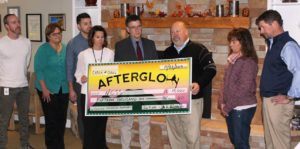 AFTERGLOW UPDATE!!
Yesterday the Afterglow Committee on behalf and in the name of AJ Holzscheiter Presented $27,000 in Proceeds!!
$15,000 to Northwestern Counseling and Support Services for Local Suicide Awareness and Prevention Programs.
$10,000 to the St Albans Recreation Department to help fund so many of their youth programs that AJ and so many other kids were and are involved in.
$2000 to the AJ Holzscheiter's Hard'ack Learn to Ski and Ride Fund, bringing this fund to a total of $10,000. Hard'ack and the St Albans Rec Department have Partnered with The Alpine Shop and any kid who is in the program will receive a free ski helmet on behalf of AJ Holzscheiter Learn to Ski and Ride Fund.
We had great expectations for Afterglow, but we're overwhelmed with the support and turnout. Afterglow's success was way beyond our expectations. As we move forward we plan to hold Afterglow 2020 again at Hard'ack on September 19. Jamie Lee Thurston has already agreed to be our Headliner again.
I'm the meantime we are in the process of making Afterglow a 501C3 Non Profit Organization focused on Suicide Prevention and Awareness, creating our own Afterglow Website to help us Brand Afterglow and manage all future Afterglow Events.
We thank ALL our partners and sponsors, the bands who played, our committee, the volunteers, those who donated and those who came and bought tickets, hats and t-shirts, of which there are far too many to list, so stay tuned for a comprehensive list of all those who helped us!!
Thank You All and we hope to see you at Afterglow 2020 on September 19, 2020.