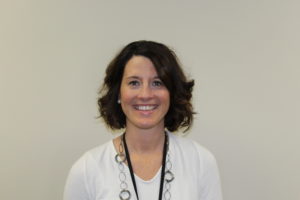 Danielle Lindley-Mitchell has been selected as the new director for the Children, Youth & Family Services Division at Northwestern Counseling & Support Services (NCSS). The position became vacant when previous CYF director, Todd Bauman, accepted the position as NCSS' new executive director. Lindley-Mitchell (along with Bauman) will shift into her role on July 1, 2017.
Lindley-Mitchell enters the position with 13 years' experience in the human services field, primarily in the children's system of care. Since 2009, she has acted as the NCSS Parent Child Center Program Manager, a role in which she develops and oversees all programs and activities of the NCSS' Parent Child Center, one of 15 Parent Child Centers in the state. In her new role as director, Lindley-Mitchell will be able to continue the great work she's been proud of for years—now, on an even larger scale. Prevention and population-based work has been paramount for Lindley-Mitchell, and as she takes on many new endeavors in her new role, she will remain focused on uncovering social determinants of health and supporting families in finding the right resources and services.
Lindley-Mitchell plans to lend her voice—as she has for years—to breaking down stigma, strengthening partnerships in the community, and finding creative ways to develop programs, despite limited funding. She is approachable and affable, traits that will serve her well as she steps into her new, more public position. Outreach and involvement are no strangers to Lindley-Mitchell; she serves on the Franklin County Promise Community Steering Committee, a grassroots and data-driven group dedicated to strengthening local resources and access for children and their families. Lindley-Mitchell is particularly proud to be a member of the Vermont Parent Child Center Network Executive Committee and will continue to advocate and illustrate the importance of prevention and early intervention within the system of care. Lastly, Lindley-Mitchell is very grateful to be a graduate of the Early Childhood Leadership Institute through the Snelling Center for Government. This experience challenged Lindley-Mitchell to be reflective, build invaluable relationships, and gain a deeper understanding of effective leadership—all skills she carry will into her new role.
Lindley-Mitchell has two young daughters of her own—Harper and Sydney—with her husband, Corey Mitchell. They relish the time that they can spend with extended family, having family dinners on the back deck. They enjoy spending time with friends, taking the family dog, Buddy, for long walks, and passing time at their family camp.